Life for Van almost immediately began to change – and change in a big way. The

galleys for his article were submitted for

Pulitzer consideration, because the deadline is October 1 for published material. The winners are announced in April of the following year. Between November – when the article came out – and April, when it was announced that Evan Van Collins had won the Pulitzer Prize for investigative reporting, the 'buzz' became nearly unbearable. Everyone at the magazine was sure he'd win. The November edition was, in fact sold out of its first printing. For the first time in many years, the magazine had to have a second printing ten days after it came out. The online edition set a record for the number of hits and downloads. Part of this was due to the advanced publicity, but the majority of it was word of mouth and social media talking about the article, Kitty, whether or not the New York City police department had changed since then (collective wisdom was it hadn't) and what a great, new writer could be found in one Evan Vance 'just call me Van' Collins. His mother called, and said all the women in her
condo were talking about the article, and when they found it he was her son she took on a new, eminent position on the condo board.
Melissa had given him his choice of new assignments. But Van decided to hold off a bit. He used part of the proceeds to repay Maida for the past year's worth of expenditures on the Discover card. He bought a new
leather couch to go with his chair. And he took Catherine on a vacation to

Grand Cayman Island, to celebrate his new fame, get out of New York's
winter weather, and to enjoy some time off from his cell phone ringing off the hook with other writers wanting to talk with him. They stayed in a condo on the beach, offered up by one of the executives at the magazine. They spent five days enjoying the sun, seafood and good entertainment. They returned to New York, and continued to regularly see one another all the way through to April. Van even gave her a key to his apartment, since she spent as much time there as she did at her own place across town.
The day before the prizes were announced, the magazine's editors worked the phones, trying to determine if the article had won the prize. But all that effort was in vain – there were no leaks from any of the judges. The New Republic had also submitted another manuscript written by another of Melissa's stable of writers, on the changes at City Hall since De Blasio took over. But they knew it had little chance of winning. This was going to be Van's glory moment, but the whole day he thought little of it. When he was working on his next assignment, his mind would drift back to Kitty and what'd happened to her. He thought often of her, of the lives affected by her murder, and how the confluence of events can lead to such terrible consequences. She had not talked to him in his dreams since that fateful experience when she'd instructed him to tell her story. And now telling her story was likely going to win him recognition, money and notice. Why wasn't he happier?
The announcements were out. He saw the crawl at the bottom of the CNN update on the
situation in Ukraine while he took a break from writing about conditions at a mental health clinic that worked with veterans with PTSD. He saw his name mentioned regarding the investigative writing prize, but it went by too fast so he couldn't see what it said. But all doubts were erased when thirty seconds later, his cellphone range. It was
Chris Hughes, the editor and owner of The New Republic. "I guess you've heard," Chris said. Van replied, "No, actually I haven't." Chris was ecstatic. "Man, you won the prize! Your piece in the November issue made the prize. You're ten grand richer, and you've brought some prestige to the Magazine – first Pulitzer since I bought it three years ago. I appreciate it, man, and I won't forget you for it. You're the man, Van." Chris chuckled, amused at his own alliteration. Van said, "Thanks, Chris – I'm really glad things worked out for both of us. I'm humbled to be recognized this way." Chris said, "Man, you can write your own ticket now. Guess I'll have to give you a full time gig to keep you. You'll probably get calls from all the big mags after this. Don't let 'em turn your head. You're our boy."
"Our boy? Van thought to himself. He knew Chris had made his fortune as co-founder of
Facebook, but he was surprised at his apparent lack of maturity and use of phrases like 'big mags' and 'our boy'. Van's instinct was to be offended, and to actually hope there would be offers from other magazines. His history with The New Republic wasn't exactly lollipops and roses. "Oh, God, now he's got me using those hackneyed phrases."
The award ceremony was held at
Columbia University, at a luncheon held the following month. Van asked Catherine to go shopping with him to pick out some new clothes since they took a lot of pictures for the website. They chose a simple, navy linen sports jacket, with khaki linen slacks. He bought some new Cole Haan loafers, so he'd look tidy but professorial. Finally, he bought several blue 100% cotton shirts from Brooks Brothers, and his look was complete.
Catherine accompanied him to the ceremony. When they called his name, he rose, walked to the dais, and accepted the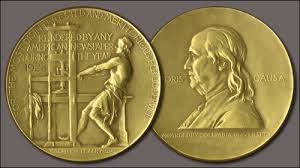 medal that went with the certificate and the check. He looked out over the audience, and recognized several people he knew of, but who had never bothered to speak to him at the magazine. They were all grinning like loons. "Look who's the big cheese, now – you losers," he thought to himself. He quickly realized they were all expecting him to say something. "Um, I appreciate and am humbled by the recognition given to my work by the committee. It was a huge amount of effort on my part, to get past the mediocre work that superceded me on the topic of Kitty Genovese. But seeing the final product, knowing that I was able to tell her story and give her life meaning, made it all worthwhile."
Van paused to take a breath, intending to continue to describe the lengths to which he had to go to find these people and how clever he'd been to get them to tell him things they'd never told anyone else. But then he saw Catherine in the audience, and he immediately realized he'd forgotten to recognize her contribution to the effort. But then he quickly thought, "Will it look bad if this girl that works for Rupert Murdoch gets recognized for helping me with this? I'd better not say anything about her helping me. So he continued with his original thought, and just before completing his self-congratulatory discourse, he said, "Oh, and I must thank my friend Catherine for putting up with me while I worked night and day on this piece." Catherine smiled at Van, and everyone in the room turned to look at her. But Catherine was unaware of the assemblage looking her way. She only had eyes for Van. She was smitten with him.
After the luncheon, they went back to his apartment. His phone was really ringing off the hook now. He said, "Listen, Catherine, I have to finish up the work on this piece by my deadline next Friday. How about if you take the subway back to your place? I'd go with you, but I'm just so busy I really can't spare the time." But I'll come by later, and we can go have dinner at Queen to celebrate. She readily agreed, gave him a congratulatory kiss, and was on her way. Van began screening his calls, deleting most of them and saving a couple from other magazines. Then call number 14 came. It was
Sarah. "Hey, Van, long time no see or talk to. I'd love to get together with you – and talk about your new-found success. Give me a call, ok? You remember the number." Actually, he didn't, but he just hit the Call Back button on his phone. She picked up after two rings. "Van – oh my God, it's been so long. How aaarre you?" Van replied, "I'm doing very well, Sarah – I guess you know about the Pulitzer." Sarah said, "Well, yes, but I was going to call you anyway. Can we get together? I'd love to see you. How about dinner – to celebrate your win?" Van said, "Sure – where would you like to go?" Sarah said, "Oh, that Italian place you like – what's it called – Queen?"
Van met Sarah at Queen restaurant at 7, feeling a little sheepish about it since the waiter had come to know Catherine as his usual dining partner. But the dinner was uneventful and pleasant. They shared a bottle of pinot noir, and ate lavishly from the a la carte menu. Van had the
grilled marinated veal chop and Sarah had
Filet of Sole Oreganata. The bill came to $190, but Van knew there'd be no problem with the Discover card – likely from now on that he'd made his mother a star at her condo. After coffee and Grappa, they went back to Van's place.
Sarah had been rubbing the inside of his calf with her foot the entire time they were eating their entrees. Now, back at the apartment, they returned to their old habits: a love-making wrestling match, but this time on his new couch. Their clothes were scattered on the floor between the door and the couch, and the intensity of her affection surprised him. After a mutually-satisfying orgasm, they were lying naked, together on the couch. Sarah was smoking one of her little French cigarettes that Van hated, but let slide this time. Without warning, Van heard a key slide into his deadbolt lock, and the door begin to open. Catherine walked in, with two bags of groceries, one in either arm. She looked at him and Sarah on the couch, nude and wrapped tightly together. She said, "I thought you'd been so busy, you didn't have time to stock up. I even got you some of your favorite
Tate's chocolate chip cookies. Catherine walked into the kitchen and put down the bags. She then hastily walked out the door, quietly closing it behind her. "Who's the fat girl?" Sarah asked. "Just a friend," Van said. "Just a friend."