Van's plane landed at
Boryspil Airport in Kiev at 7 am New York time, 3 PM Kiev time. Van had trouble sleeping on the plane, with the result that he felt tired and ill when he retrieved his luggage. He took the
Sky Bus into Kiev, where he had a room booked at the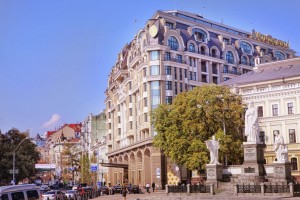 Intercontinental Hotel. The room rate was the same as a
Motel 6 in Omaha, Nebraska, because of the devaluation of the local currency, the hryvnia (pronounced ha run ya). The hotel was fantastic, inside and out. Van thought to himself, "My God, this may be the best, cheapest vacation I'll ever take, especially because I'm not paying for any of it." He checked in at the front desk, and the bell captain himself took Van's bags up to his room on the 4th floor. Van took a shower, and laid down on the soft, down-covered bed. Within fifteen minutes, he was sound asleep.
When he awoke and looked at the clock it said 7:20 PM. Van got dressed in clean clothes, and went downstairs to the hotel restaurant. He had a five start meal of Romaine Salad,
Tournedos Rossini with Mixed Mushrooms, and creme brulee for dessert. Van polished off the bottle of Chateaux Margaux, and then practically staggered to the elevator to reach his room. He went back to bed, and awoke the next morning at 7. An equally sumptuous breakfast awaited him. "I could get used to this very quickly," he thought as he dug into a fresh
omelette with truffles, freshly basked croissant and a pot of superb coffee.
Feeling totally refreshed, Van stepped outside to take a walk around the hotel. He was supposed to meet his driver/interpreter who turned out to be the same person – a fellow named Bohdan who allegedly spoke perfect English as well as Russian and Ukrainian. In the meantime, it was a beautiful, sunny day. The temperature was about 70 degrees, and the town was a delight to the eye. "Life is certainly good at this moment. Guess I couldn't ask for anything more," Van thought. But, as usual, ugly thoughts crept into his mind. He recalled the look on Catherine's face when he tried to explain his way out of sleeping with Sarah. The thought made him wince, but the day was just too nice to dwell on it. He did his usual, "I'll think about that later," routine and continued his stroll around the hotel and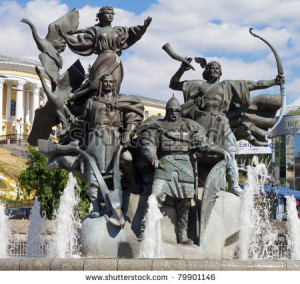 surrounding environs.
Promptly at 3 PM, there was a knock on Van's hotel door. He opened it to find a young man who couldn't be more than 19 or 20 smiling at him. "Are you Van Collins?" Van replied, "Yes, I am. Are you
Bohdan?" The young man's smile broadened even more. "Yes, I am. May I come in?" Van opened the door wider, and the young man stepped into the room. His head swiveled around as he took in the sitting room, adjacent bedroom and full marble bath. "This is quite nice, Mr. Collins." Van replied, "Please – call me Van. All my friends call me that." Bohdan smiled shyly, likely at the thought that he was already friends with the first American he had ever met. "Thank you…Van. I will do that."
The two of them sat down at a round table in the corner of the sitting room. Van asked him about the current cease fire, and how things were in Donetsk. Bohdan replied, "I was there about three weeks ago. Things were fairly calm. There have been many attacks by our
forces against the combined forces of the rebels and the Russians. But the Russians have been called back by Mr. Putin, and there is no telling whether or not they will return. I think you will find it possible to go to Donetsk and see the damage in the city, and interview some of the rebel leaders. They are most anxious to have contact with media, especially American media. They think since the unfortunate incident with that airplane, they have not been properly portrayed as resistance fighters to American newspaper readers. But the truth is, Van, they are not resistance fighters. Most of them are ex-convicts or
former Russian military special operations fighters looking to make money and achieve fame with their outrageous acts. I do not trust them. But I also understand why they are so fascinating to Americans."
Bohdan's last statement struck Van as odd. "Tell me what you meant with that last sentence – about them being fascinating to Americans." Bohdan nodded, and then looked thoughtful. "We Ukrainians have had twenty five years of freedom from Russian censorship. We have access to movies and to some American television. We understand how Americans think and act now, because of these movies and television. You are …" Bohdan hesitated, obviously searching for the right words. "Buckaroos?
Cowboys? Vacaros? Am I saying this correctly?" Van smiled, and said, "We are not all cowboys, and yes, you are saying it correctly. You can't believe everything you see in American movies. Some of us are normal people that do normal things, and don't even carry weapons – normally." Bohdan gave Van a curious look, and said, "Oh. I see."
Their conversation returned to the details of the trip to Donetsk. Travel time from Kiev to the city is about 10 hours, depending on the condition of the E40 road. Bohdan said he had taken the liberty to use his contacts in Donetsk to arrange a meeting with the current head of the rebels. The head guy was fairly new, having taken the place of
Alexander Borodai, who resigned in August after the airliner was shot down. He was replaced by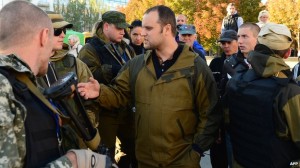 Pavel Gubarev, who was in hospital after having survived an assassination attempt on his life. "The new guy's name is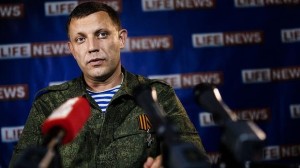 Alexander Zakharchenko, but everyone just calls him 'Zaki'. But the truth is, the real guy in charge is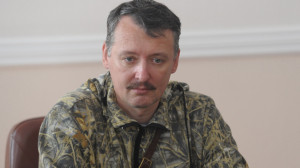 'Strelkov', the Russian FSS Colonel."
Van was hastily scribbling these names, underlining the name 'Strelkov – Russian' to emphasize what Bohdan said. "So when do we go?" asked Van. Bohdan said, "I suggest we wait until the day after tomorrow. Tomorrow there will be a big meeting of the rebels, and nobody will be around to be interviewed. But they will be in a talking mood after the meeting. So is that OK with you?" Van nodded in agreement. The rest of their discussion was about logistics, advice about taking pictures (don't photograph them) and the vehicle to get to Donetsk. Bohdan said, "Most rental car companies won't let you drive their cars into Donetsk unless you basically buy the car from them. But I have a van we can use." Van hesitantly agreed, not wanting to waste any of his expense account money just renting a car. They agreed to leave early in the morning in two days' time.
Van spent the rest of the time prior to leaving reading, resting and walking short distances around the hotel. The Odessa Catacombs turned out to be just dusty old subterranean rooms, so he decided not to go. Instead, he dined sumptuously, slept like a lamb, used the indoor pool to paddle around a bit, and even went into the gym to ride the stationary bike for 5 minutes. By Friday morning, he was ready to go.
At the agreed-upon time, 7 am, a battered
blue Ford Econoliner van vintage about 1969 pulled up in front of the hotel. Van saw Bohdan get out of the van and proceed into the lobby. "Oh my God, he must be kidding," thought Van, now regretting his decision not to pay for the rental car. Bohdan knocked on the door, and Van stepped into the hallway. "Are you sure that thing will make a 10 hour trip without breaking down?" Van asked. "Oh, sure, it'll be fine. I just put a new tire on the front left. We'll be fine."
Van got into the front right seat of the van. Bohdan took the wheel, and they were off in a cloud of blue smoke. Van looked into the back of the van and saw two cases of what appeared to be motor oil. "The van uses a bit of motor oil, so I like to have plenty to be sure there's no trouble." Van rolled his eyes, but kept looking straight ahead at the road. While there wasn't a great deal of traffic, the condition of the road was deploreable. Trucks passed the van going 120 kilometers per hour, while they hugged the right side, never going much above 80 kmh. "A classic vehicle such as this requires care and not much stress," was all Bohdan said. Van was beginning to worry.
In spite of his concerns, they made the trip in exactly ten hours, stopping only for 'petrol' and to put more oil into the engine. It was 5 PM when they arrived in the heart of what can only be politely referred to as a war zone. Hollowed-out buildings from fire and shelling surrounded the town square. An
apartment complex that had been hit by a missile east of the city was completely destroyed. There were tanks, armoured personnel carriers and large trucks filled with soldiers in green camouflage everywhere. The van was stopped at a checkpoint on the west side of Donetsk. Bohdan spoke to the rebel and he pointed to the press pass with Van's picture on it, hanging around Van's neck. Bohdan and the rebel had some additional conversation in what apparently was Ukrainian, and they were allowed to pass. Bohdan said, "He told me Zaki is expecting us for dinner." Bohdan drove on, avoiding huge potholes in the street and piles of debris. Finally, they pulled up in front of a large, nondescript building. Bohdan got out, gesturing to Van to do the same. They walked up to the front door, where the guard spoke to Bohdan. They were allowed to enter. They went up two flights of stairs, and into what appeared to be an
office. In the inner office area, a man was talking loudly and waving his arms at the two others with him. Finally, the man glanced at the outer office and saw Bohdan. "Bohdan!" was all Van caught. The rest was in Ukrainian. Bohdan and the man spoke loudly and apparently affectionately with one another. Then Bohdan said, "Van, this is Zaki. Zaki, this is Van Collins. He is from the New Yorker magazine. He would like to interview you." Zaki looked questioningly at Bohdan, and then at Van. "New Yorker" – and then more unintelligible gibberish. Zaki led Bohdan and Van into his inner office, where he had his laptop open and apparently connected to the internet. He pointed at the laptop, and spoke to Bohdan. Bohdan sat in Zaki's chair, and after a few keystrokes, had The New Yorker website up. When Bohdan entered "Van Collins" into the search space, his cover story about Kitty came up. Zaki looked down at the page. "Hoo Keeled Keetee Yennoweesee?" Zaki looked at Van. "You write this?" Van nodded. "Good. We eat. We talk." Van was thinking. "Not good. Not good at all." But he was here, and Zaki seemed to like Bohdan, so maybe everything was going to be okay. Maybe.